GOOGLE MAPS FOR INFORMAL PUBLIC TRANSIT
In Lagos, Nigeria, over 20 million trips are made everyday through informal public transit systems, including privately owned buses called danfos and the Bus Rapid Transit system, or BRT, owned by the Lagos Metropolitan Transport Authority. But for Google Maps users in Lagos, there was no routing data or accessible interface available. From concept to launch, I led design for public transit directions with a new localized homescreen, step-by-step directions interface, and the launch of street view capability in Lagos. Conducted field research across Nigeria and worked closely with local guides, startups, data scientists, and activists to enhance inclusion and accessibility of the map and the process of rapid feedback and iteration. These launches resulted in millions of previously excluded addresses, routes, businesses, and several languages, accents and transportation modes like the Danfo and BRT bus systems becoming visible for the first time in Google Maps history. Featured in
Quartz
and
Reuters.
ROLE
UX and UI Design Lead
Conducted & Participated in Field Research
Co-design Facilitator
Advocate, Connector, and Partnership Builder
CREDITS
Roadpreppers
STER
organization
Google Maps Local Guides in Lagos & Abuja
Photo by Reuters/Akintunde Akinleye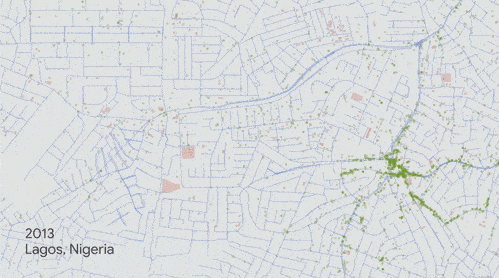 From 2013 to 2018, this gif demonstrates the progression of mapping residential areas, businesses, routes, and landmarks across Lagos, using a combination of user generated content, satellite data, and street view capability.


During this process, we partnered with local guides,
Roadpreppers
, and the
Stand To End Rape
organization to map out local transit routes, bus stops, pharmacies, hospitals, and small businesses across Lagos.
A new, localized homescreen was launched in Lagos to provide more clear and direct access to local traffic data, bus fares, bus stop crowdedness, and an entry point to step-by-step directions, with localized languages, iconography, and street view capability. The step-by-step directions interface was designed to support people who were not familiar with a map interface. Worked closely with
local guides
on feedback and iteration cycles.